OMG, it's Halloween tomorrow!
Say what? All of our thoughts are scrambled when thinking of what food we could make for our children's Halloween breakfast or lunch for school. But it doesn't stop for just our kids, we can also think of these quick recipes to bring the coolest and spookiest food for the workplace!
It has to be quick to prep food to make our lives less chaotic and at same time it would make us the coolest parent, employer/employee and overall dude. Our heads are spinning like the exorcist. What should we do?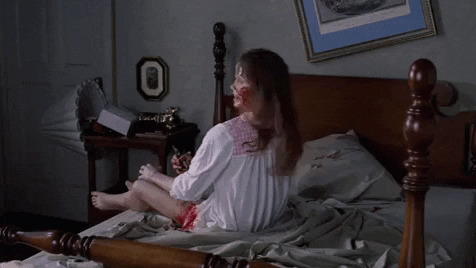 Whoa… Take a deep breath! This is not end of the World…
There are ways that we could make quick and easy unreal Halloween snacks that would be very last minute but no one would know it and people will think you are so cool for being creative with Halloween treats.
Here are the ideas of spooky foods….
Clementine Pumpkins and Banana Ghosts
Ingredients:
Clementine, peeled
Celery, cut into small sticks
Banana, peeled and cut in half
Blueberries
 Instructions:
One stick celery into the top of the clementine
Two toothpicks stick two blueberries into the bananas
FrankenGuac
 Ingredients:
Three medium ripe avocados, peeled and cubed
Onion, finely chopped
Fresh cilantro, minced
Tomato, diced
Garlic, minced
Lime juice
Instructions
In a small bowl, mash avocados with a fork
Stir the onion, fresh cilantro, tomato, garlic, and lime juice
Scoop guacamole onto a platter
Shape into a rectangle
Place chips near the top of the head
Decorate face as desire with tomatoes, celery, cucumber, and blueberries for eyes.
 Jack O' Lantern Tuna Avocado Melt
Ingredient:
Tuna Fish
Avocado, peeled and roughly chopped
Onion, minced
Garlic Powder
Garlic, minced
Tomato, Sliced
Cheese, Sliced
Instructions:
Place all of the ingredients in a medium bowl.
With a fork, mix and mashing the avocado, and break up the chunks of tuna until the ingredients are well combined
Cut out eyes, nose and mouth out of each cheese slice to create a Jack O' Lantern.
Place cheese on Tuna Fish and then onto your favorite sandwich bread until cheese is slightly melted.
** Some people like to eat the cheese without melting it so you can leave it not-melted as well**
Mini Pumpkin Quesadilla
Ingredients:
Two Tortillas
Tender Chicken, Shredded
1 can of refried bean
1 avocado
Garlic, minced
Tomato, diced
Onion, minced
Cilantro, chopped
Lime juice
Mexican Cheese, shredded
Salsa
Instructions:
Get a plate and lay one tortilla down flat
Use a shark knife, cut a Jack-O-Lantern face out of the tortilla
Heat a large sauté pan over medium heat
Place a new tortilla in the pan (not the one you carved)
Top with all ingredients, chicken, guacamole, salsa, shredded cheese, on it
Add the Jack O Lantern Tortilla
Cook until the cheese is melt
Serve with homemade guacamole and salsa.
**The instructions about how to make guacamole are on the second list, which is FrankenGuac.**
_\m/ Aidan Mack